Mt. Hood, Sedro-Wooley and Vancouver Island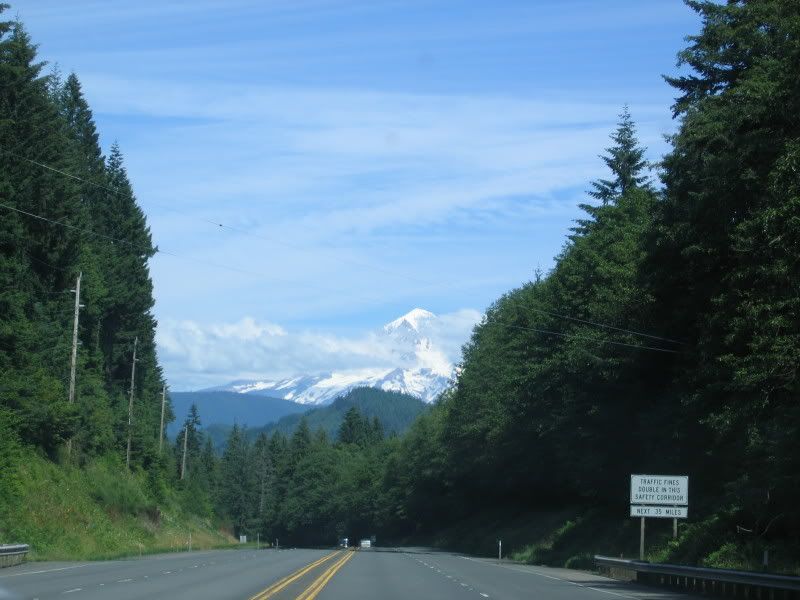 Well it's been a fascinating three weeks of unexpected changes and meeting interesting people. My plans have changed and evolved as I met people on the way. The best thing I've done so far was go to the Reedsport chainsaw carving event that caused me to meet lots of new people and divert my traveling plans - actually gave me options so I could choose what I really wanted to do. After I left Bandon I stayed in Portland for one night, camping outside in my truck (which has become the best sleeping experience I've had in years) at Paul Missal's place where he fed me dinner and invited a friend over. Paul teaches painting at the Pacific Northwest College of Art so below I shot him standing next to his current commission. The next day I headed for Sandy, Oregon to meet up with Deborah and help her write her amazing story of when she was in kindergarten with Johnny Depp. If you want to read a really heartwarming story check it out: debbieandjohnnyforever.blogspot.com
Above is a photo of Mt. Hood near where Deborah lives and below is Paul.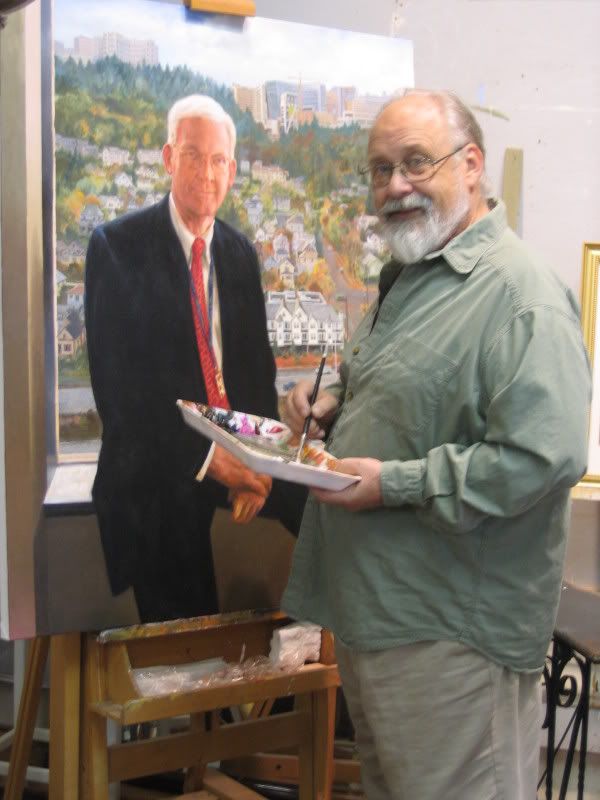 Also, I want to thank Doug, my friend in Bandon, for his enthusiasm and help with Deborah's project. Doug, below with Tripod the three legged dog, after he had taken me to lunch and I was about to drive away.
After I helped Deborah put up her blog site I followed her to Sedro-Wooley, a town north of Seattle for a chainsaw carving show she participated in, where I got to see Thor again, my carving friend who worked next to me in Reedsport. Below is the piece he was working during the first day of the show. Also is a photo of Deboprah at work.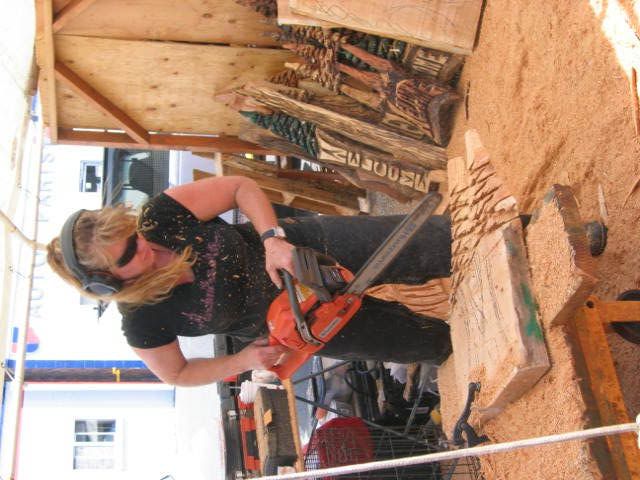 I finally headed off to Canada where they kept me for two hours at the border because of the sculptures littering up my truck. I was told that I was forbidden to be creative in Canada - since that was how I made my living. It turned out to be an omen of what I was to experience. I only stayed a week, one of the strangest in my life, and painted a large wooden fence surrounding the side of the property. Once I finished the job I was out of there. I was frightened about being let out of the country and didn't breath easily until I crossed back into the U.S. again. Weird, weird, weird. I do have to say, that except for the very strange woman I stayed with, everyone else I met was very nice. It was my own fault because my intuition said no, no, no, but the woman kept guilt tripping me by saying I had to go because she had done so many things for me! Anyway, I am now sitting in a cafe in Bellingham, WA and camping out at a chainsaw carving event being held in Deming, WA, nearby and meeting great people again. Below are photos from the Ferry ride to Vancouver Island. I have no idea where I'm going next but intend to be around intelligent, sane, happy people. Below are a couple of shots from the ferry trip, the last one being symbolic.