Chainsaw Carving in Reedsport, Oregon
I've just returned from my first chainsaw carving contest held in Reedsport, Oregon sponsored by Echo Chainsaws. What a learning experience. Up until now I've always worked alone and am self taught so this was the first time I've ever met other people who carved wood using this tool. Months ago, when I was preparing to travel in the Northwest I Googled "chainsaw carvers" and got the web site for the event. Since it was free to participate I signed up for it so I could meet people and network, but learned there was a big waiting list. I only found out I was a contestant a week before it began. I tried looking on their web site but they only had a few very badly done photographs of the usual bear and eagle carvings so I really had no idea what I was getting into.
I met some wonderful people. Everyone was very friendly and helpful, they fed us all our meals, they gave us hats and an official T-shirt (I can wear mine as an oversized dress) and if you had something to sell and it was an eagle, bear, fish or a moose - you could make money. But picture yourself doing hard labor with the tailpipe of a running vehicle pointed inches from your face the entire time, not to mention the sawdust, dust from the wind and the sound of 50 chainsaws running at once, in the sun, with lots of people watching you the entire time. I was told by Thor - the guy who was carving next to me - that I was the first person he'd ever met who only carved with electric chainsaws, not to mention he had never seen anyone carve using safety chains (to prevent kickback) which evidently makes it all much harder to do. Duh - working alone I never knew this. Basically, I'm an artist who uses my little electric saws as one of many tools to make my art. A real pro has at least 6 to 10 gas chainsaws of various sizes lined up on a table behind his space, not to mention all the extra tools needed to grind, sand and burn.
The theme this year was "Once Upon a Time" so when I learned I was going to participate I went online and in the end decided to do Snow White singing to a bird and printed a Disney picture to use as a guide. Above is the finished piece, which is okay, but tiny compared to what the mainline carvers produced. The logs they provided were about ten feet tall and six feet in diameter - huge, massive things. I had them give me a quarter of a log. Below are the two top winning entries.
There were several carvers from Germany and one guy from Japan. One of the German carvers worked as a chef and gave demonstrations on how to peel a potato with his chainsaw. Below is one of the German guys and the Japanese guy's beautiful dragon.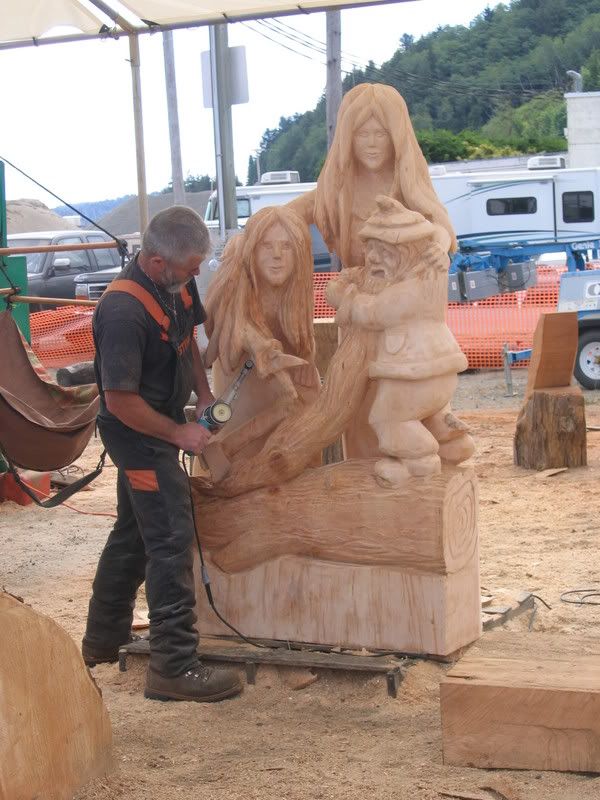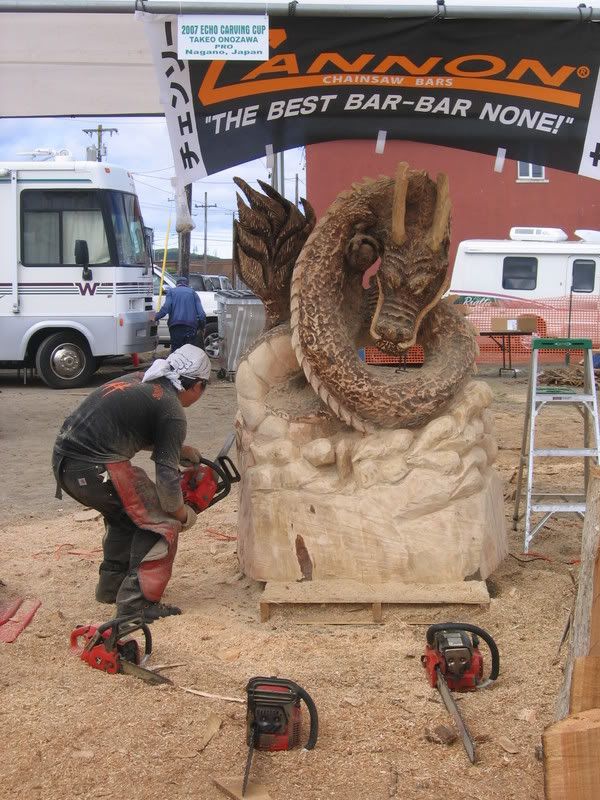 Here are a couple of the American carvers' pieces that I liked - the two dragons attacking a castle was amazing and the frog and fairy on toadstools was cute.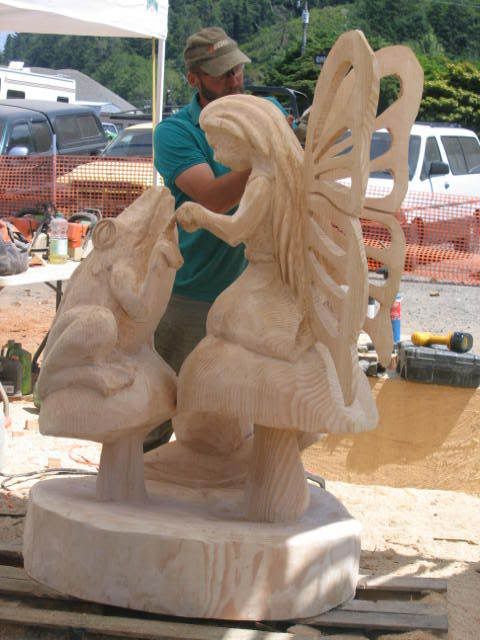 Every day we had to do a "quick carve" and donate it to be auctioned off, which was our entry fee to the event. They raised quite a lot of money doing this. We had 75 minutes to carve something and the guys cranked out large bears and eagles. Not knowing what to expect I decided to carve horse heads because it's the one thing I knew I could do fast and after watching the first auction I learned that welcome signs were popular. Everyone was allowed to have at least two long slabs a day (to make benches) so I took advantage of this to make horse head welcome signs that took me 20 minutes and left me enough energy to continue working the rest of the day. The first day I carved a horse head out of a log and wasn't able to carve the rest of the day I was so exhausted.
I was surrounded on one side by Ellie (below) who I learned was 20 days older than me (there was a man even older who was 73). She carved a giant Babe the bull dancing with a moon with her gas chainsaws. I was downwind of her so got the full impact of her exhaust fumes and sawdust. She's tiny, weighing in at 109 pounds, but has the most amazing energy. Thor, who carved a knight taught me a lot, loaned me his tools and helped me carry things. He travels to England every year to compete and although he looks about 25 years old is 45.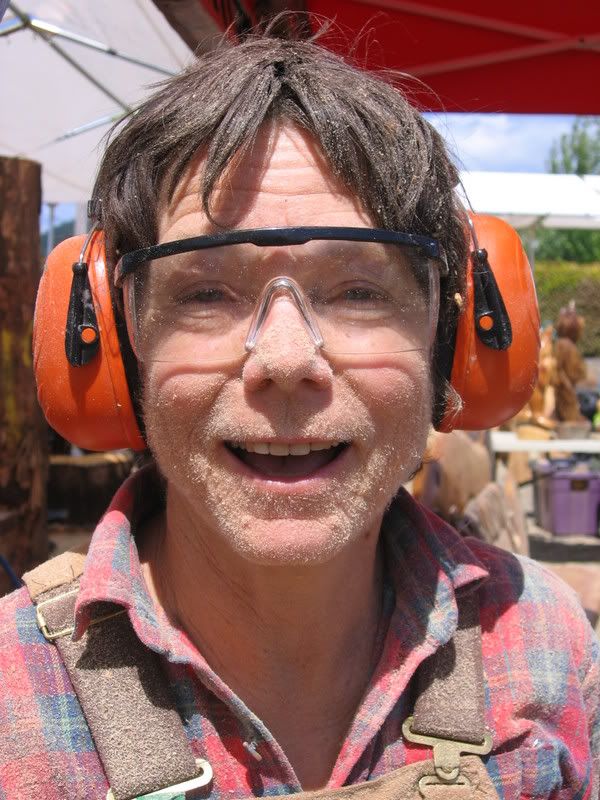 This is Deborah who saved my life by letting me shower in her motel room every night and entertaining me with fascinating stories.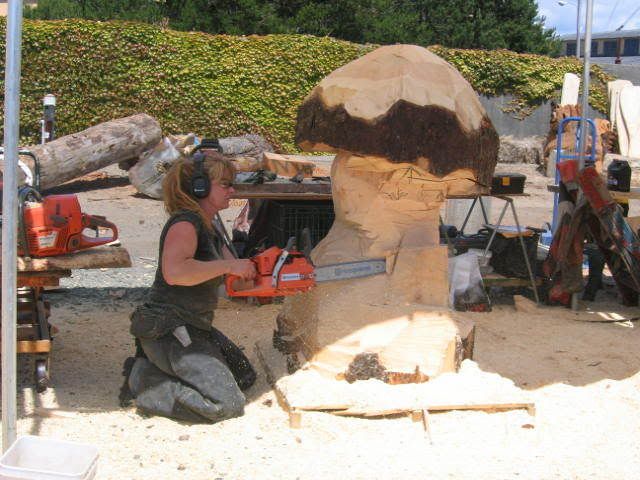 My face looks like I've been blow torched but otherwise I survived the ordeal, have invitations to visit fellow carvers all over the Northwest, and boy did I learn a lot.