Touring Northern California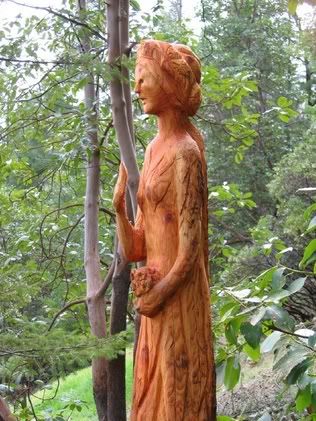 When I came to California I had a rough plan in mind. I would spend my first couple of weeks with my friends Fran and Patti in Santa Cruz, then find a yoga ashram and stay a month or two de-toxing, de-stressing, doing yoga, and cleaning out, then find a carving job. I also hoped that all the meditation would help me make decisions on where to go next. What I really wanted to do was find a community of like-minded people to settle down and work with. The only stipulation being that I also got to keep making my living as an artist.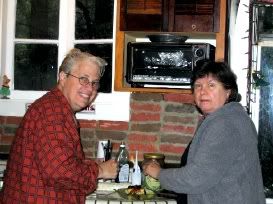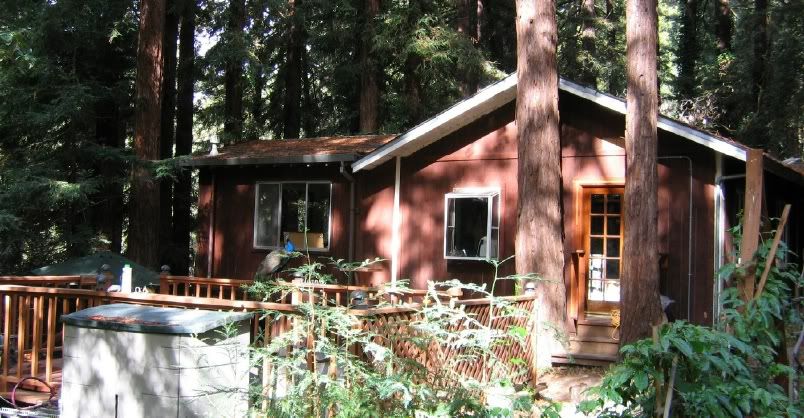 I ended up staying with Fran and Patti for two months in their beautiful home in the Santa Cruz Mountains. The house was built around the turn of the century, probably as a hunting cabin. Underneath the building can still be seen the stump of a massive redwood tree, about 12 feet in diameter. Completely circling the house is a ring of the mature offshoots of this mother tree. Patti owned the house in 1989 when the big earthquake hit. The house, then on stilts, tilted over and ended up leaning against the trees. That allowed Patti to have a good foundation to withstand earthquakes built under the house. Without those trees the house would have slid down the mountain. The mountain had been clear-cut in 1906 to provide the wood to rebuild San Francisco. Now giant redwoods, standing more than 100 feet tall, thickly cover the mountains, hiding everything under it. Underneath, everything was dark and cold, with occasional sunbeams peeping through.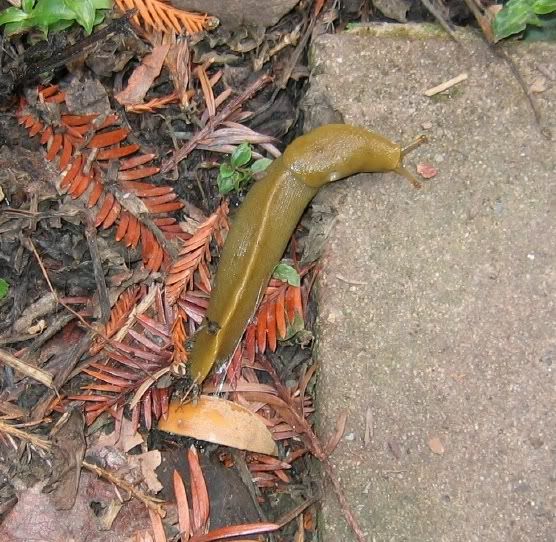 Looking for sunshine, I'd sit outside. That's how I ended up making friends with Peabody, the neighborhood peacock. He seemed to be fascinated by my petting of Patti's cats. I also became intrigued by the banana slugs. They really loved cat food - you would think they'd have a hard time chewing it. The only banana slugs I'd seen in the past had been huge and bright yellow, but that may have been a mating thing. Fred, a mere child, was slug green.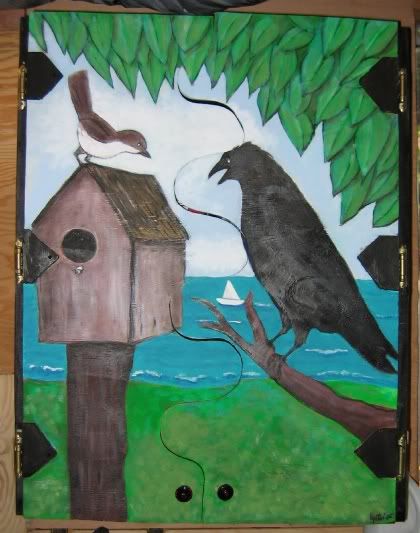 Fran had a large circle of plywood that she was going to make into a table top and I decided to paint it. Before I'd come out to California I'd painted three table tops for a coffee house that friends were opening. They are really fun to do and pure therapy for me. When Patti was trying to get Fran to build her a cupboard to store the cleaning materials in, I volunteered. I recycled a large plank I found in back of the house into the top, bottom and sides of the cabinet. Another plank became the shelves and a piece of plywood the back and doors. Fran gave me some hinges she'd bought and never used. At the Santa Cruz flea market I found two sets of the game
Scrabble
. After I painted all but the outside doors of the cupboard black, I glued the wooden
Scrabble
letters on to create a positive crossword-style message for Patti. The crow and the wren are nicknames they use, so of course I had to use that symbology.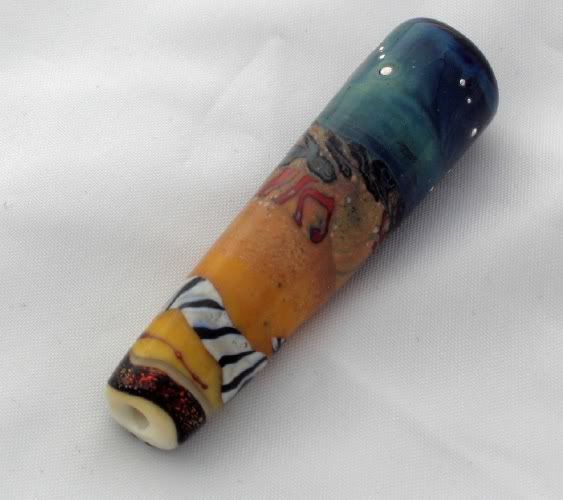 Fran is a bead artist, while Patti paints. Both love poetry. I created the book called The Red Sex Pants for them to fill with their poetry (Fran's title - she has a way with words). Above is one of Fran's beads that I used as a model when testing my new camera's macro ability. The beads have a mystery to them that you especially feel when you turn the bead around. On my last weekend in Santa Cruz Fran and Patti threw me a birthday party and cranked up the hot tub, a giant relic from the 70's that Patti bought at a yard sale.
I finally left for the Sivananda Yoga Ashram in Grass Valley on the first day of November. I'm an early riser so I didn't mind getting up at 5:30 every morning. Meditation, chanting and yoga lasted for four hours every morning. At 10:00 we had an hour for brunch. The food was vegetarian, mostly vegan, and bland, but guaranteed organic and healthy. I had paid $400 as part of a work exchange for the month. That meant I had to work 4 hours every day. The more, or less, you paid, the more or less you had to work. The easy jobs were the office jobs where no hard labor was expected but you had to know what to tell people who called. Of course, the long-time staff had all those jobs. I ended up climbing ladders on steep hills to stain the wood siding on all their cabins. When that finished I finally got a sit down job, I got to sit and paint all the railings surrounding their office buildings. I planted hundreds of flower bulbs along their walkways, had fun power washing the grime out of tile floors in the kitchen, and on a regular basis raked millions of leaves and did lots of kitchen detail. Every morning before yoga we had a karma yoga meeting to be assigned jobs so we had some choice in the tasks that were offered. Nothing creative appeared until Ganesha Das, the guy in charge of PR for the ashram, needed someone with a good digital camera to take photos that the swami wanted for their newest brochure. Ganesha Das deleted the pictures from my camera that I took of two people doing beautiful yoga poses, but you can see them on their web site: (www.sivananda.org/farm/). Gauri, from India, lets Teresa, from Viet Nam, massage her so I could take photos for Teresa to use on her new flyers.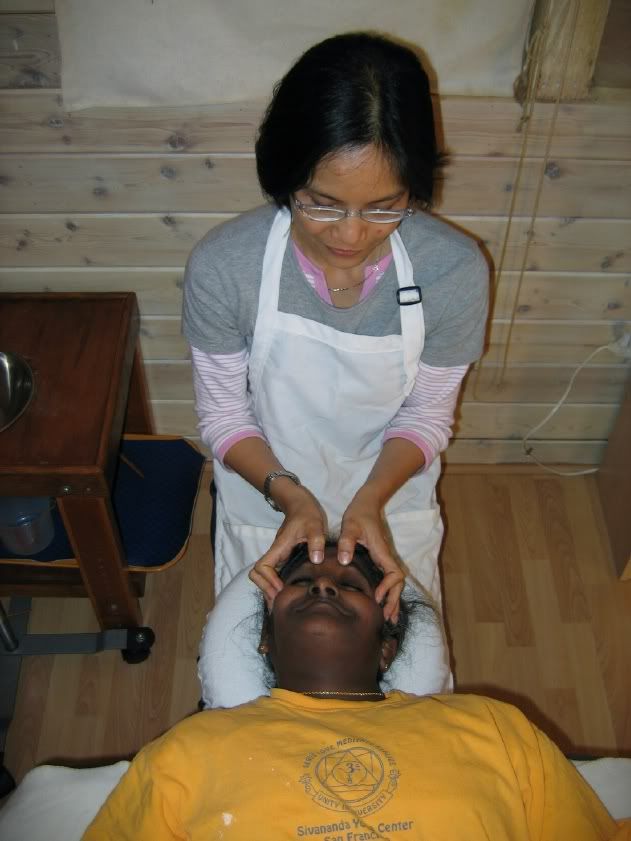 At 4:00 there was a second yoga class until the dinner bell was rung at 6:00. At 7:00 the cycle began again: meditation and chanting, ending with a dharma talk or teaching and finishing around 9:00. By 9:30 I was in bed, totally exhausted.
It took me a week to figure out how I could sit without moving for an hour with my legs crossed and not have them go numb. At the beginning of the month I could hardly do some of the yoga poses but by the end I could do most of them easily, although I'm limited because I can't bend my right wrist. I fractured it in 1980 while climbing down a mountain in Morocco and their x-ray machines weren't very good. Anyway, I adapted.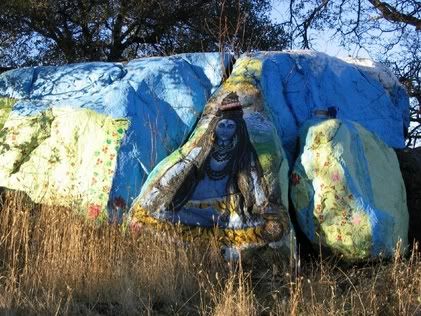 I did have some spiritual insights while there, but they seemed to come to me only when I hiked to the top of their property where they had a shrine. It was probably the heavy breathing from climbing the hill, sending oxygen to my brain.
I arrived in Sacramento during a rain storm. When I unpacked my stuff from the back of my truck I found that the plastic container that I had stored my chain saws in was full of water. It had evidently sat directly under the leak for the whole time I was parked at the ashram. The next day I hung the saws upside down on the garden fence in direct sunlight. When I plugged them in a week later, they all worked. They just needed to dry out.
I made a deal with Uddhava, the owner of the Meditation Center. She wanted a statue, but until they found a log for me to carve I helped the cook prepare dinner. Room and board was free at the center, as long as you worked 22 hours a week in exchange.
Here it was, December, and before every meal the cook would go out to the garden and pick the most amazing organic vegetables. Broccoli, cabbages, squashes, cauliflowers and kale were plentiful the whole time I was there. When she brought in a big basket of peas in the middle of December I was amazed. Tomatoes growing in the greenhouse lasted as long. Every meal I was allowed to make something. I tried out a few of my vegan soup recipes and everyone seemed to like them, but I learned a lot by being the person who cut things up and prepped for the cook. I'd been wanting to learn new, healthy ways of eating so this worked out perfect for me.
Uddhava would bring me interesting pieces of wood and ask me to do something with them. That's how I came to carve and paint their Om Shanti sign, a piece of wood that had once been an oxen yoke in Guatemala. Evidently the name yoga means something like yoke in Sanskrit so they were going to hang the sign over the yoga studio door. Some bent pieces of wood Uddhava found on her daily walk became the handles to gates on the property.
The spiritual practices at the Meditation Center were very different from the Sivananda Ashram. Their beliefs were centered around kirtans, the chanting of God's name in love. The devotees had to repeat their chants thousands of time every day. It kind of makes sense to me - you can't think bad thoughts if you are filling your head with beauty, light and love. In many ways the chants were similar to the ones at the Sivananda Ashram, both having a Hindu source, but instead of sitting cross-legged for hours, the people at the Meditation Center moved with the music. And the singing was so beautiful. At the Meditation Center beautiful clear voices abounded. Several guitar players would lead everyone, increasing and decreasing in speed. It was intoxicating. The music produced pulled me in and before I knew it I was chanting along and jumping up and down too. I missed the sitting meditations and the Sivananda style of yoga but otherwise found the Meditation Center a lot more satisfying and creative for my personality.
I made friends with the WWOOFers who were taking care of the large organic garden on the property. It's an organization that connects young people from all over the world and allows them to travel and learn about organic gardening by working on farms in every continent. It's a fun way to learn organic gardening, and while they didn't get paid money, they received free room and board. The picture above is from when we went on a two mile hike down a very steep mountain to a ravine where we'd been splashing in the creek.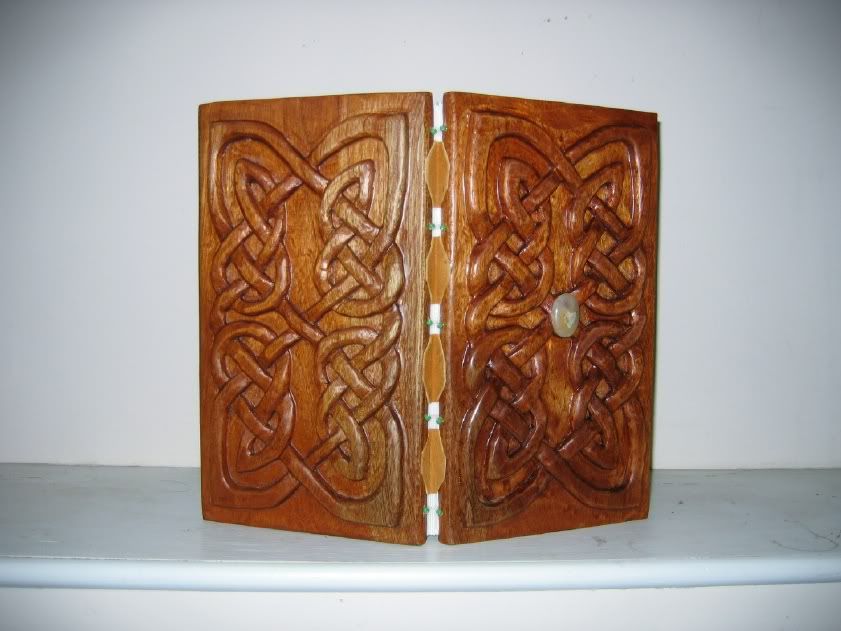 Out of the blue I got a commission for one of my books. An acquaintance e-mailed me and asked if I could carve one with a Celtic design for her boyfriend. It just so happened that I'd brought a set of cherry wood covers with me that had a Celtic design already carved on them. I bound them with acid-free paper into a book and mailed it to her. I received her money order just when my cash was getting low. A funny story. I had asked her to send me a post office money order so I could cash it easily as my bank account is in Ohio. Instead, she sent me something else, which I didn't realize until I was standing in front of the guy at the post office. When I found out I had the wrong check, instead of being upset I just asked them if they knew where I could cash it and the guy in back of me offered to cash it at his bank. The nice guy cashed the check for me and I never saw him again. I must look honest.
I'd been at the Meditation Center for 2 ½ weeks when we finally got a log from a neighbor. I spent a couple days looking at it then finally started with only a week left to carve and finish the statue of Radha, Krishna's favorite girlfriend. The hard part of this job was carving such a small piece of wood. I'm used to carving much larger logs so it threw me off. She stands about 5 feet tall, with a peacock at her feet and jade beads for eyes.
Most of the people who live at the Meditation Center are yoga teachers. Owned by a family, it has a happy family feel to it. I really enjoyed the people I met there. But, by the end of the month all the WWOOFers had gone and I was ready to go out in the world again. The day after New Year's I headed back to Santa Cruz to stay at Fran's beach house. I'd lost weight and felt relaxed after my two months of healthy eating and living, but now I had to work.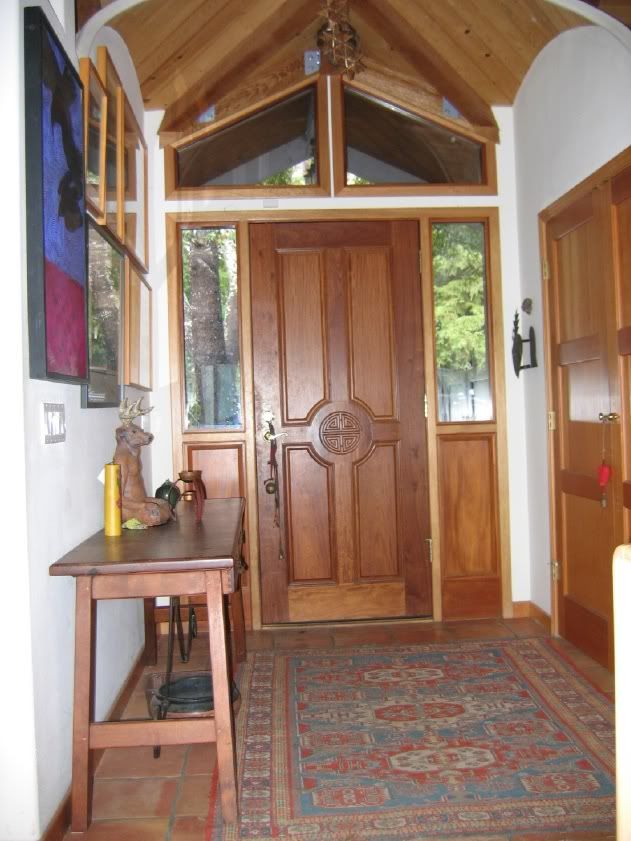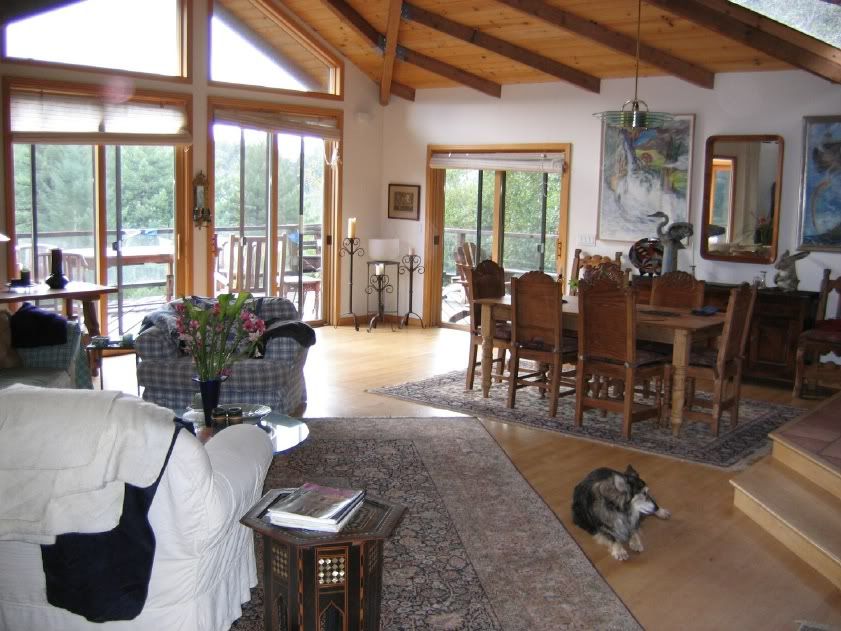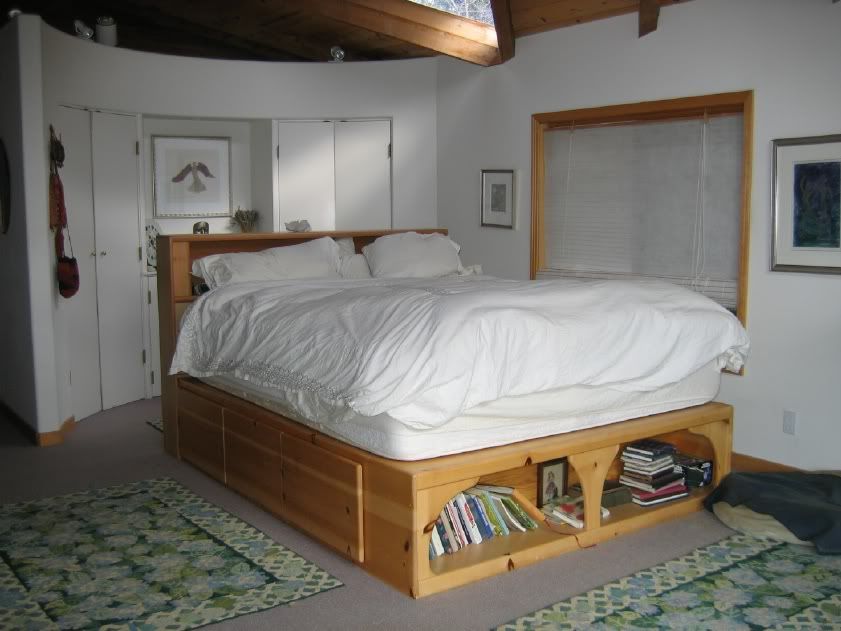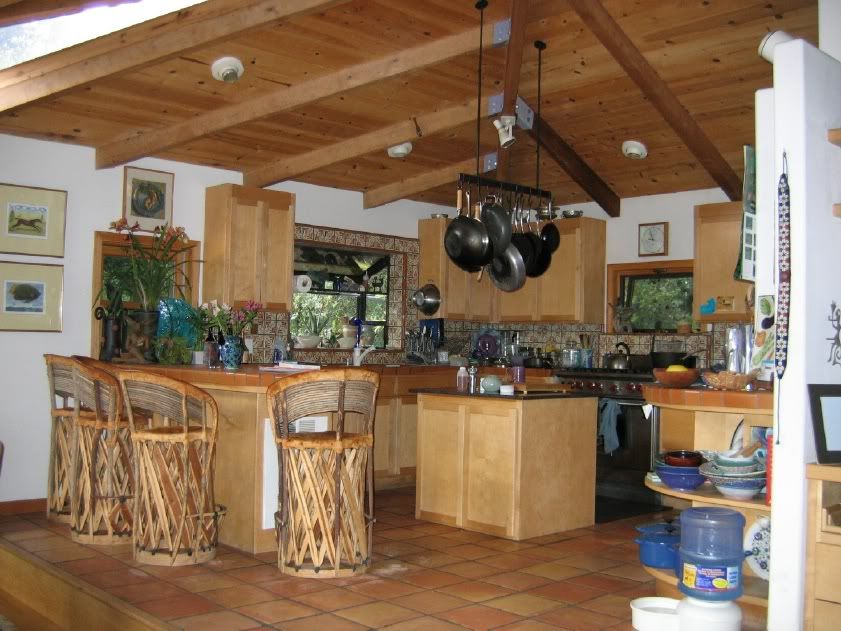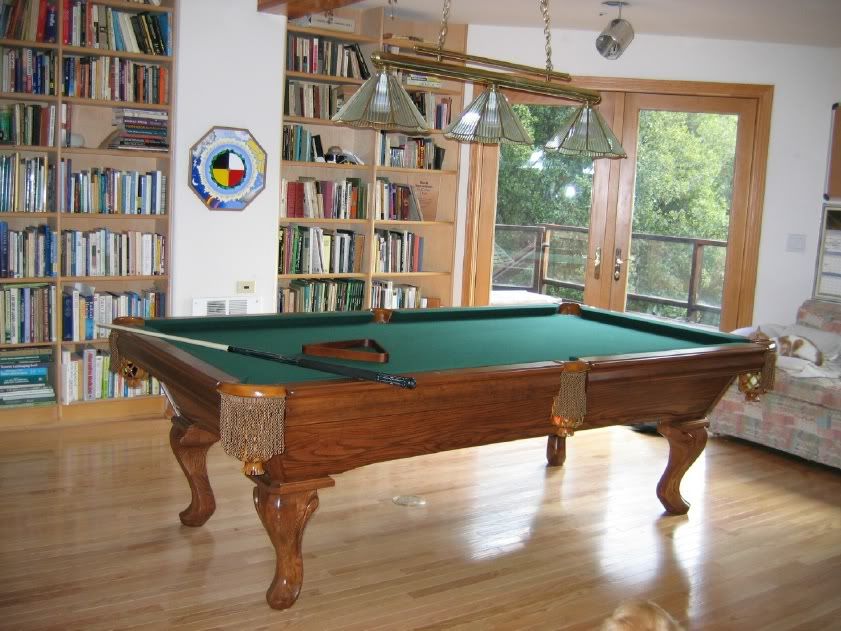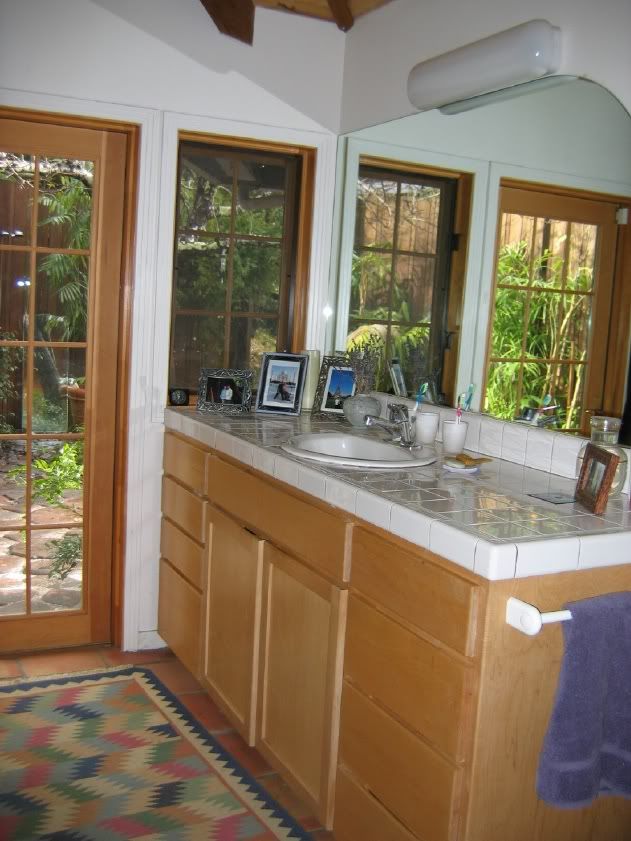 I'd decided that I wanted to photograph people's houses and make books out of the photos. I met a couple who had a beautiful property in the Santa Cruz Mountains. Completely offline, it's electricity provided by solar panels, the house is spectacular. From the wine cellar with hand carved doors to the one-of-a-kind tile work in the bathrooms, I knew that it would be the perfect place. They were busy but allowed me to come in one afternoon to photograph. I shot 165 photos, ended up deleting about 20 of them and have enough left to make a good sized book. It seems to me that if people are willing to spend millions of dollars on a house they might like to have a beautiful book filled with Home Beautiful type photos of their biggest life investment. Not to mention being a great insurance record. Well, that's my plan and my pitch. I ended up getting a carving job so haven't carved the covers for the book yet. That's my next project. If you want to see more of my books, check out my web site at: www.dragonbbs.com/members/byates33/books.htm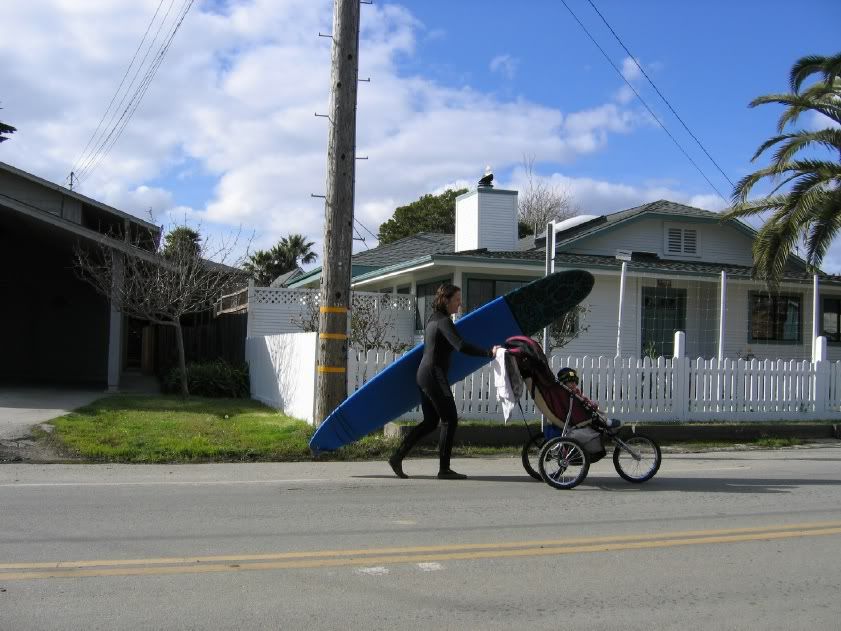 Rain, rain, rain. Sunny California, what a joke. When it wasn't raining I'd be biking somewhere or walking the two blocks down to the ocean to watch the surfers. When I saw the mom carrying her surfboard and pushing the baby it was so typical I stopped to ask if I could take her photo.
At the end of my first week back in Santa Cruz my friend Fran had several other friends come to visit her and I joined them at the mountain house. One of the women, Laura, after seeing all the art that Fran and Patti had of mine in their house, invited me to stay on her property and carve for her. I was looking for work, so we decided that February would be the best month for both of us. She wanted me to carve a garden deva for her garden.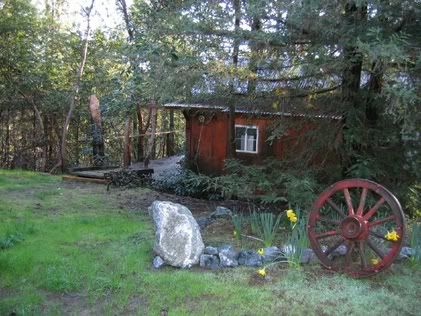 That's how I ended up living in a cabin on top of a mountain in Mendocino County. It's so high up that one weekend, during a cold snap, we had snow cover everything. Laura asked me to also carve an earth spirit and a cat. I had never carved a cat before so I had fun with that. We used the wood from two dead trees that had been killed by a beetle infestation. I carved the two small totem/deva statues just to use up some of the wood. Here are some pictures of my cabin, the carvings, and the property with and without snow.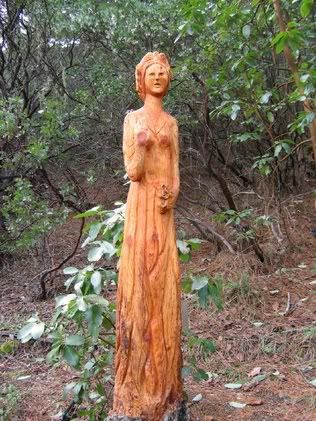 Laura is a writer, editor and passionate photographer who shoots close ups of flowers, hundreds and hundreds of them, all different and amazing to see. The project I'm working on with her now is to make a book using a hundred or so of these photos. For the covers, she gave me a ceramic slab that hangs next to her front door to use as a model. As you can see it's mostly carved but still needs lots of sanding (ugh).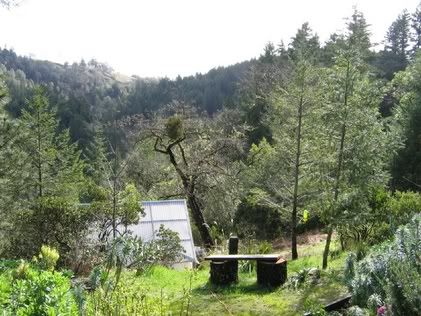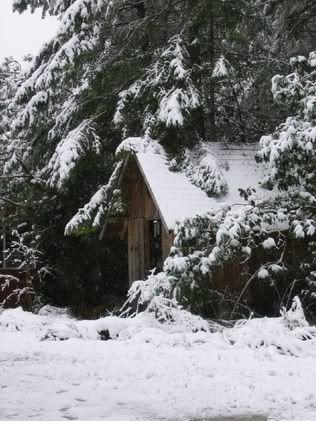 That's it for this installment. So far my trip to California has been a lot of fun and I'm thinking of moving back here. Evidently there are lots of people here just as strange as I am.