Some New Work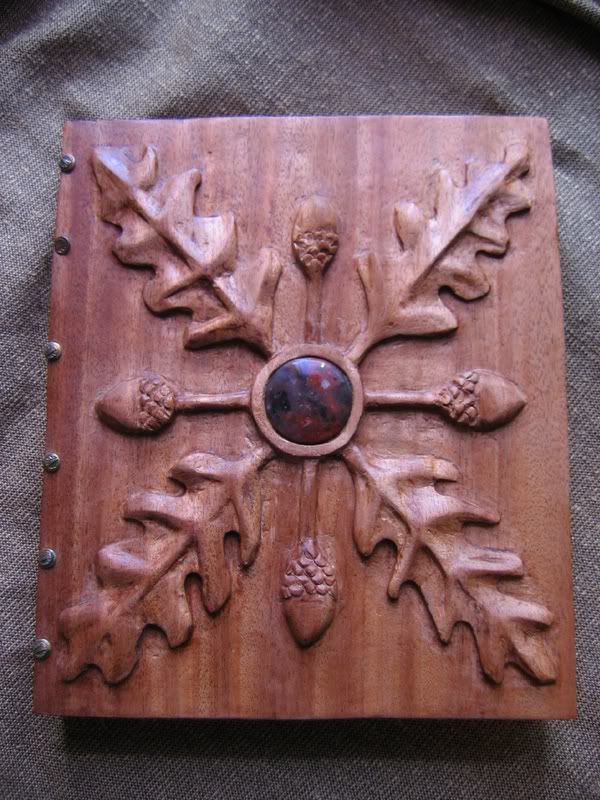 I finally finished creating a book to show people. I love to photograph beautiful homes and make sculptural looking books by carving the covers out of interesting woods. I started doing this years ago when I made one as a Christmas present for a friend, who was a real estate investor. He then hired me to photograph his buildings and I discovered how much I loved doing it. I've done this several times because they are fun gifts to make, and people come back to me later and tell me how much it meant to them. This book is carved out of mahogany, with a jasper cabuchon in the center. Last year I'd bought a jar of old metal beads at a yard sale and I was able to use some tiny old brass beads from it to hold the (coptic) binding together and accent the wood. I just carved the date on the back cover in a way so it would sit flat. The book is photographed on some raw silk upholstery material someone gave me and I'm going to make a Celtic style book bag out of it for storage of the book. The pages are acid free and come from a drawing book. I painted both sides with green and gold spray paint, then cut them down to size. I bound everything together and glued photos inside. I spent less than two hours photographing this spectacular house in the Santa Cruz Mountains but came away with over 100 beautiful photographs (okay, after I deleted all the fuzzy ones). Here are some of the pages.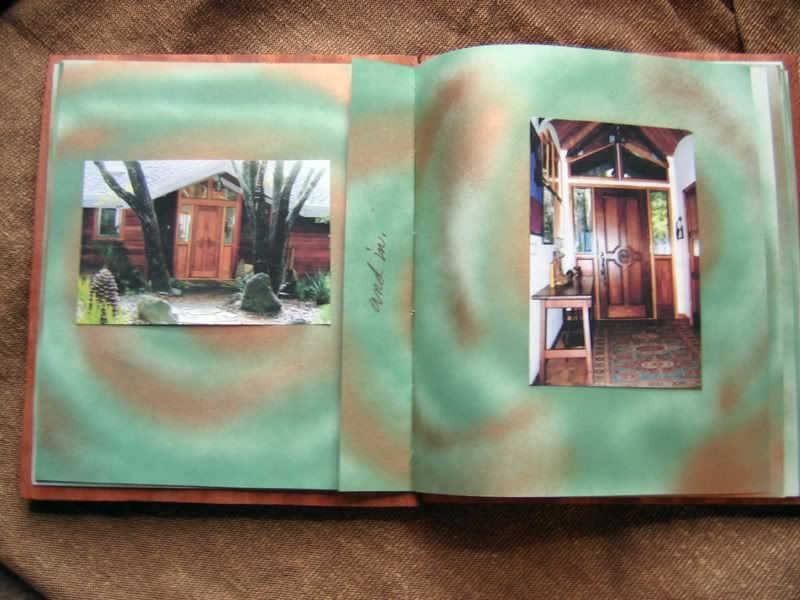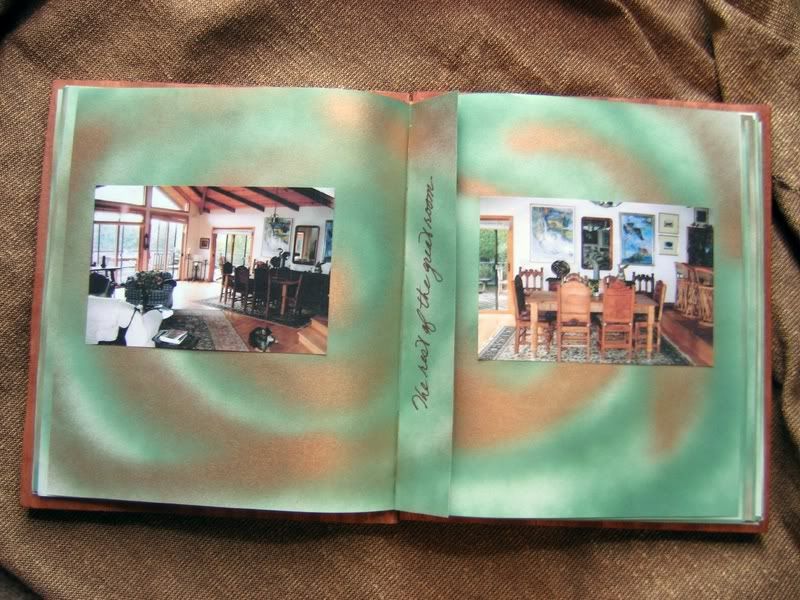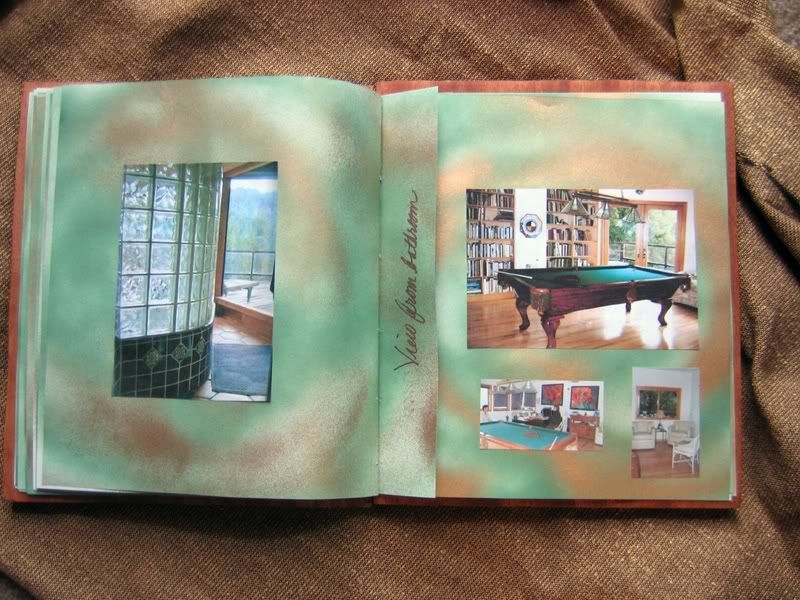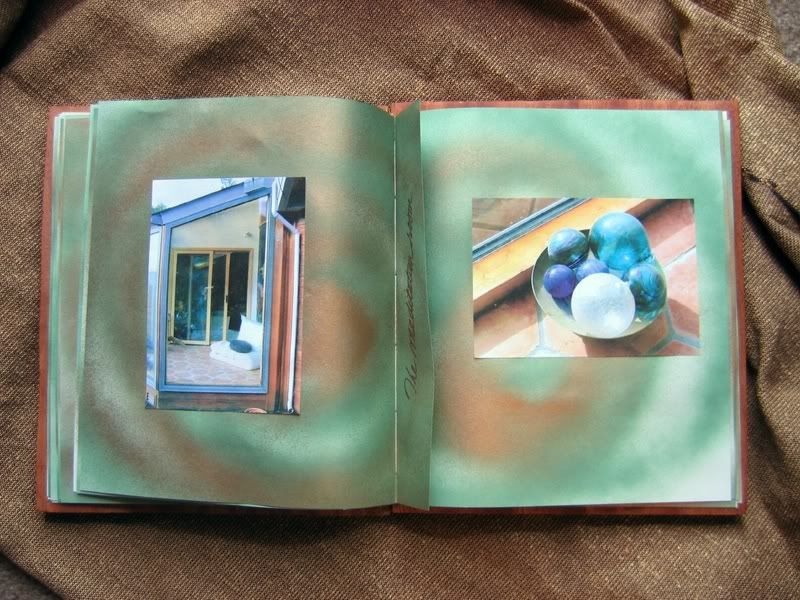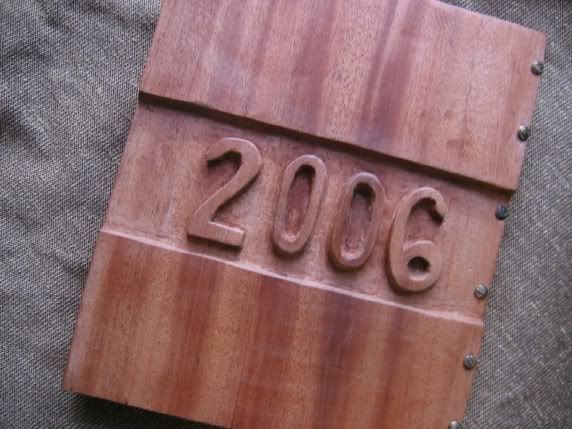 Since the last post I've been going a little crazy, but am finally getting caught up. I spent two weeks in December with my parents and it made me feel great to be able to help them out while my stepfather had a new knee put in. A couple of days before I left I moved the last of my belongings from my storage in Cincinnati to a small room in their garage. That forced me to slim down my life considerably. The move went off without a hitch thanks to my friends Carre and Kaya who, along with Jim and his son Jimmy, all met me at my storage unit and helped me make it all disappear. Carre put me up for the night and took me out to dinner at the Veg-Head, a new vegetarian restuarant featuring one of my earthspirit sculptures in it's dining room. What a hoot. Then she bought several of my hollow log chairs and all my wood. I sold the last two sculptures to my friends Carol Vogt and Carol Hunter, which is good because that's how I was able to finally get my truck to pass the California smog. My last winter in Ohio did in the bottom of my truck - I had to replace everything. After the third time it flunked the smog test(and by then over $1,000), I just took it to the Toyota dealer, gave them the rest of my money, and it finally passed. I'm now officially a Californian I guess, or my truck is. To pass the time and take out my frustrations on something, I finished carving the goddess that I started in Medocino. She is five feet tall and about 13 inches in diameter. She was so much fun I'm working on another one. I visualize a bunch of them standing in a group with different hand mudras.
A sad note. One of the two neighborhood peacocks was eaten by something. Peabody, the original inhabitant is still around, but his buddy, Paul, is no more. Below is a picture of Paul's shadow as he looked down through the sun roof into the living room where Patty and I were sitting by the fire a month ago. I noticed a shadow moving around the wall and looked up to see Paul looking down at me. It's pouring down rain up here at the mountain house where I'm writing this and I can see poor old Peabody sitting under a big umbrella looking wet, sad and forlorn.