Deming, Washington Chainsaw Carving Show
I ended up having a great time at the Deming Chainsaw Carving Show. Met lots of nice people, made some money and learned lots of new things. This wasn't a competition but artists just showed up and worked and then they auctioned off our creations. They fed us all our meals and we camped out and partied every night. Above are the first two pieces I carved - a little flower girl and a dog. Below is Lisa, former model and now a chainsaw carving chic from Montana and great person. Five minutes after meeting her she gave me a new chainsaw she didn't need just because she thought I should get to learn how to use a gas powered saw. She was there with two of her children, also beautiful. The chainsaw carvers are like one big happy family - generous, kind and fun. Below are a few examples of the projects people worked on.
Below is a bird Lisa carved, a logger by a German carver, followed by Matt's eagle bench and Ken's mountain lion.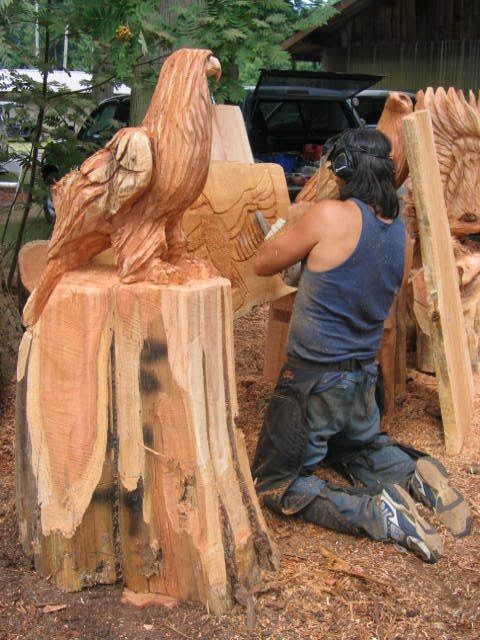 My friend Debbie has been teaching me how to carve signs so for the second auction I made these two "Welcome" signs.
I'm presently sitting in a cafe in Bellingham where, in a short time, I will be taking off to drive to Spokane for the next phase of my summer vacation. This is a really nice city - it sort of reminds me of Santa Cruz, but I like the vibe better here. Below is a shot I took my first morning here last Monday.